According to VOGUE, copper red is one of the biggest fall hair color trends of 2021. "Copper red is equal parts sexy and playful" and "this color is most popular among people who want and are ready for a bold change". Yet the shade of copper red revealed (picture below) is more like ginger (or orange) color in common name. And, ginger color wigs do become hotter and hotter in this autumn. Let's explore more about ginger hair wigs.
Copper Red Hair Color Revealed by VOGUE
What is a ginger wig?
Ginger wig, like pink wig, blue wig, as the name indicates, the hair color is ginger color (some people call it orange color). Generally, the color falls between red and strawberry blonde. Specifically, the color have many different shades like light ginger, dark ginger, ginger blonde, etc. Ginger is not a new hair color, but it becomes hot in this season. It means warm, hope, harvest, and gives a feeling of gratification and warmth. Those are some reasons why it's so popular in fall and winter.
How does a ginger wig look on dark skin?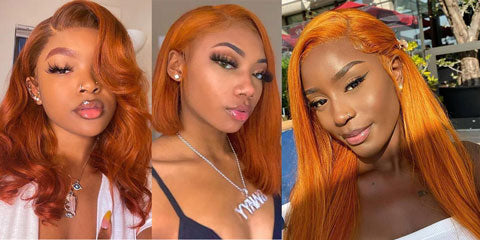 Ginger Wig on Dark Skin
As you can see in the above pictures, ladies of different dark skin tones look amazing in ginger wigs of different shades. It's not surprising that not all ginger color shades suit all the skin tones, you need to spend a little bit time to fiture out the most suitable shades for you.
Why you should wear a ginger wig made of human hair?
This seems to be an old topic but it's more visual to know the reason via pictures below. The ginger wig made of human hair looks more natural, or we can say it's realistic; while the synthetic ginger wig looks more like for a fancy party.
Human hair ginger wig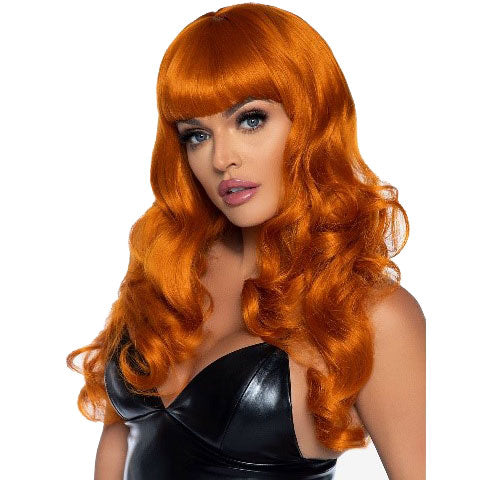 Synthetic ginger wig
Here is a comparison to answer the question clearly. 
 

Ginger Human Hair Wig

Ginger Synthetic Wig

Looks natural, real

Looks fancy, fake

Wash and blow dry like your own hair

Should be careful with the temperature of water and usually cannot be blow-dryed

Style as you like

Usually style is fixed and cannot be changed

Wear for daily or special events

More for parties
Where to buy a ginger wig with a natural lace front?
Of course you can get a ginger human hair wig from your local store. You can try it on the spot and decide which one to take. Yet a local store usually sells at a high price and only stock one or two color shades to reduce the inventory pressure. The ginger shade is the right one flattering your skin tone, that's perfect. If none, don't make do with it. Instead, try to find the right color shade from online shops which usually have plenty of choices to meet your needs.
Ubeautywig offers different ginger wigs with natural lace fronts – short ginger wigs, long ginger wigs, ginger bob wigs, wavy ginger wigs, straight ginger wigs.
Ginger Bob Wig
This Remy human hair bob wig features a vibrant ginger color and a 13"x4" transparent lace front. You can part the hair on the right, middle or left. With preplucked hairline, be bold to show your hairline.
Wavy Ginger Wig
This wavy ginger wig is full of enchantment with high grade body wave real human hair. The 13"x4" lace front provides a natural hairline and different parting possibilities. Lighten this cool season with this warm ginger color.
Straight Ginger Wig
What a bright ginger orange color! Be young, be eye-catching. This straight ginger wig is also a transparent lace one with high grade Remy human hair. Treat it like your own hair and create varied styles. 
If none of the above shades is your favourite, drop a picture to us at service@ubeautywig.com, we can customize a unique ginger color wig for you. We provide 2-5 days fast free shipping worldwide for all wig orders.
We are open to this topic and you are welcomed to contact us to share your thoughts about ginger wigs. Again, our email is service@ubeautywig.com