Are you invariably wearing the same color or design wig? Do you know the most popular design and hair color in the current wig market? Are you planning to try a different wig from your previous ones, but don't know what to try? Now stop racking your brains and try these wigs below. They are trendy designs and colors of the moment. Either one can make you the focal point of a difference.
Skunk Stripe Wig
Skunk stripe wigs are definitely hot in these days. Not only black and white, but also black and pink, black and blonde, black and green, black and red, black and purple, and some other color combinations. Of course, the safest is still black and blonde skunk stripe wig, which doesn't look that bright and is suitable for all occasions. If you don't want to stick to a very boring hair color, then try skunk stripe hair. If you like DIY, you can also try making your existing wig into a skunk stripe style by yourself. Separate the part of your hair that you want to change color and dye it directly to your favorite color, or bleach it first and then dye it. In this way, you can have a unique skunk stripe wig easily. Don't be addict to this DIY too much, I'm afraid you can't stop and make all wigs into skunk stripe style.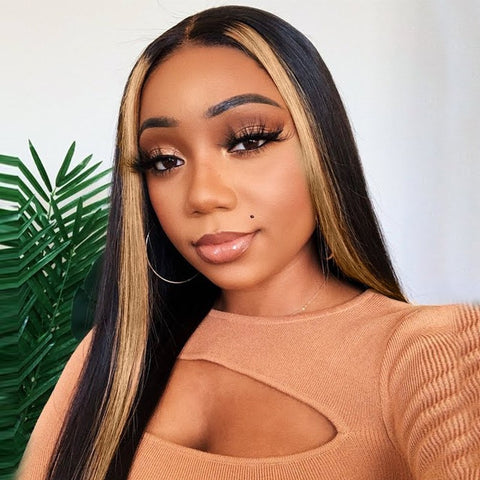 U Part Wig
While u part wigs have been on the market for a long time, now is their most popular period ever. Whether it's because it's really convenient and can be taken off every day, or because it's healthy and doesn't require glue, or because it's really budget-saving, it's just hot right now! After the headband wig, the u part wig has become a new darling of super cost-effective. If you haven't tried u part wig, you probably don't know how to wear it yet. After reading the following tutorial, maybe you would like to give it a try, because it is really easy to handle. But one thing, u part wig is not suitable for people with thinning hair on the top of the head. Because thin hair is difficult to cover up the opening of u part wig.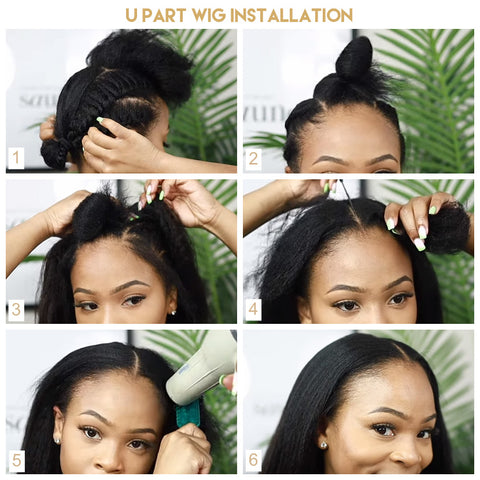 Step 1.
Section off a bit of your natural hair around your edges (aka "baby hairs") at the front on both sides. Then, tie the rest of your hair up into a ponytail, and pin the ponytail securely with bobby pins. Note: If your hair is longer than shoulder-length, we recommend cornrowing your hair down around the leave-out. Then, you can start the regular installation steps.
Step 2.
Put the wig on from the center of the u-part, and clip it down wherever there are clips, making sure that the wig lays flat on your head.
Step 3.
Part your leave-out in the direction you desire, and flat iron each section down accordingly, making sure to cover the edge of the u-part opening of the wig.
Step 4.
Lastly, flat iron your leave-out together with hair from the wig so that it blends smoothly & seamlessly.
Blonde Hair Full Lace Wig
Do you still remember the hard-to-find full lace wigs on the market in the early days of the epidemic? Because of the epidemic, full lace wigs had been out of stock, and the price has soared but it is still difficult to buy one. Therefore, many wig wearers have to give up full lace wigs and choose lace front wigs. Now, the epidemic is almost over, and affordable full lace wigs are back. In this hopeful spring, go out with a blonde hair full lace wig, bright and full of possibilities. You can also dye your blonde hair to make it unique, highlighting a few strands or even dyeing the whole thing to the color you want, such as the ones in the picture below. Spring should be colorful. Your hair is no exception.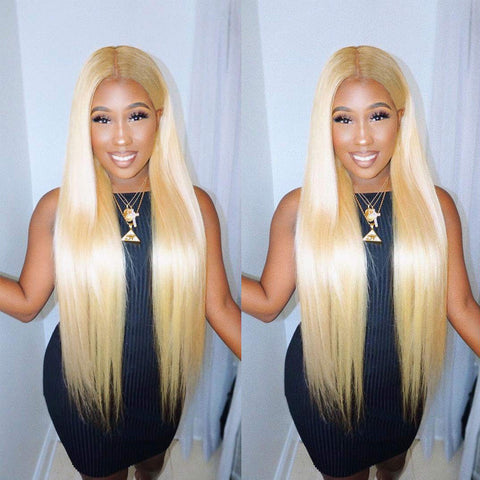 Burgundy Wig
Burgundy wigs have been in fashion for many years. It is still a very popular color to this day. Among all the colored wigs, burgundy human hair wigs are relatively low-key, but they are most suitable for different occasions. Wearing it, you don't feel too eye-catching when you go to work, you don't feel too monotonous on vacation, and you don't feel old-fashioned when you go to the street. Summer is still far away, and spring is still a little cool. Let this low-key and calm burgundy color make you look warm and pleasant.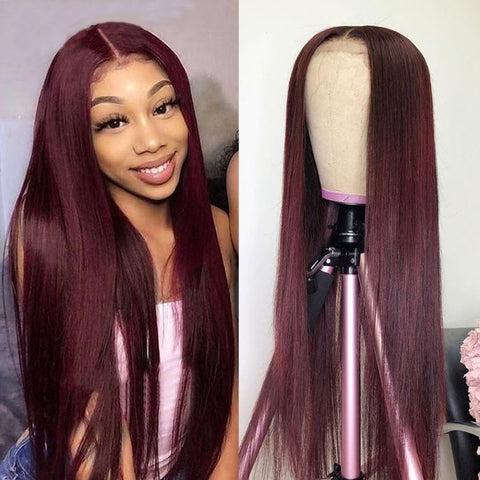 Purple Bob Wig
Last, but not least, Pantone's color of the year is purple. So, how can you miss out purple hair? To look more than just too flashy, you can try a cute purple bob wig. Purple is romantic and full of power, making you look more glamorous. How can there be a lively spring without a lively wig, and how can there be a lack of that unique you in fashion?